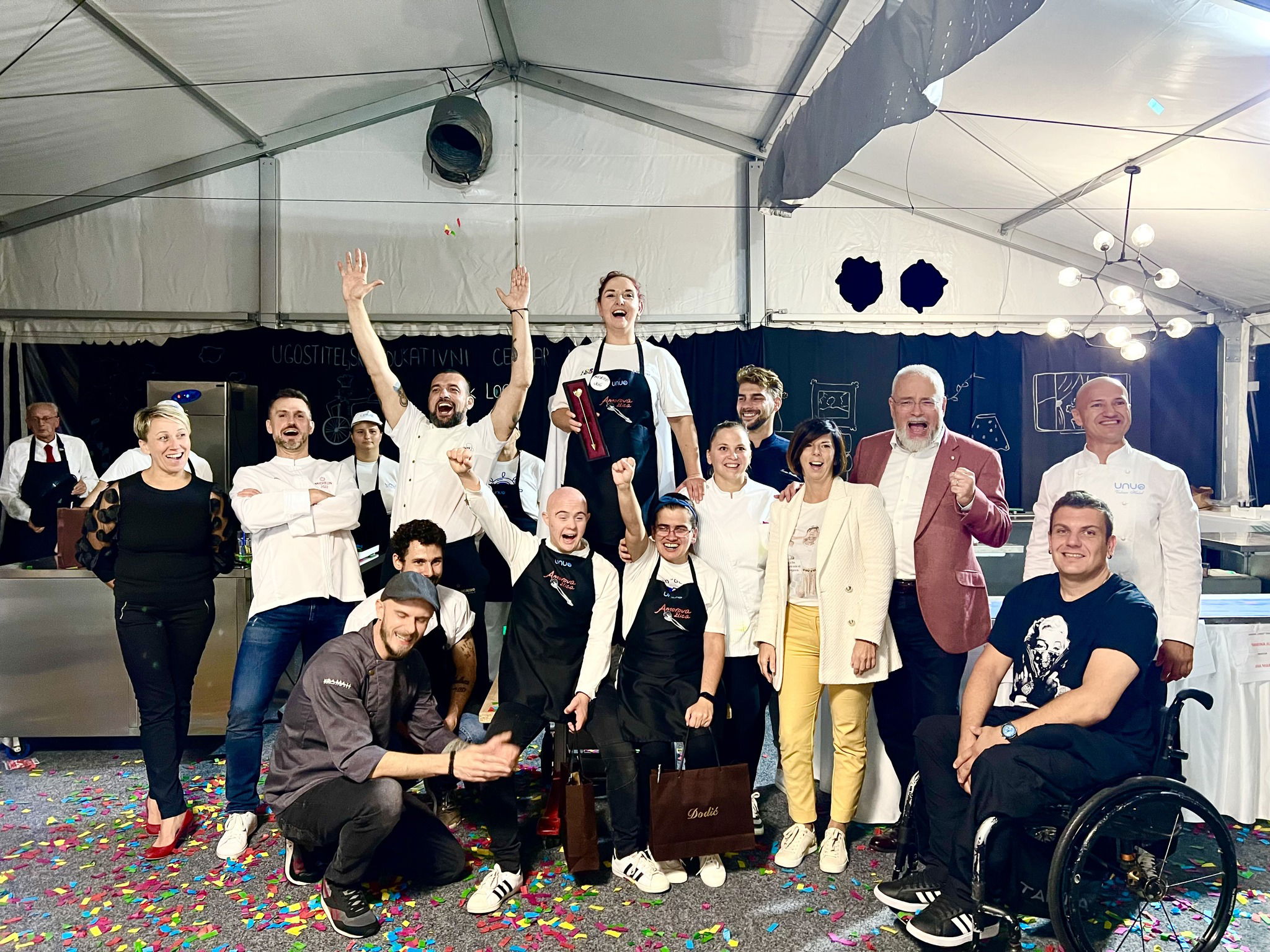 SUCCESSFUL START OF "CUPID'S SPOON EUROPE 2023" - Cyprus
We are very happy and proud that "Cupid's Spoon Europe 2023" had a successful start in Nicosia (Cyprus) on Saturday (11th February). Our hosts were the nuns of St. Joseph's monastery. During our 7-day stay in Nicosia we had the opportunity to meet members of "Christos Steliou Ioannou Foundation" and members of "Confederation of Organizations of the Disabled KYSOA", with whom we discussed integration of persons with disabilities to the labour market and how Cupid's Spoon competition can help them get more public visibility.Our special thanks go to Honorary Consul of the Republic of Croatia, Mr Luke Benfield, whom we met just after his arrival from the hospital, where he had undergone a minor medical procedure, but was still eager to support us in getting members of the local media to attend the workshop and the competition.
As it was too expensive and too complicated to transport our gastro truck to Cyprus, we would like to thank Andrey & Julia Dashin's Foundation for the donation of the gastro-vehicle for the Saturday competition in front of Maronite Cathedral, where our host was Fr. Antoine Succar.
Mr. Evgenios Bagazidis, Mr. Panayoitis Hadjisymeou and Mrs. Nina Mavrohanna, who participated in the jury, decided that the best candidate was Mrs. Christiana Stavrou, a sight-impared semi-finalist supported by "Pancyprian Organization of the Blind" who will represent Cyprus on Cupid's Spoon final competition in Zagreb. The competition was also attended by Mrs. Anastasia Anthousi, Deputy Minister of Social Welfare, who will cover travel costs for Christiana and her assistant to Zagreb.


2nd DESTINATION - ATHENS

On Wednesday (15th February) we arrived to Athens with our gastro-truck specially adapted for persons with disabilities, after a two-days trip from Zagreb. Competition location was in front of the Cathedral of St. Dionysius the Areopagite in the very centre of Athens. Out of 26 competitors, supported by 11 institutions who provide care and education to persons with disabilities, who crossed ladles on Saturday and Sunday, the best candidates, who will be coming to final competition to Zagreb were Stefanos Kaloudis (from "Children's foundation Pammakaristos") and Tanasis Karalampous (from Theotokos Foundation).We would like to thank all members of the jury – Chef Ilias Mamalakis, Mr. Andonis Delatolas (journalist), Mr. Leonidas Kakouris (actor), Mrs. Carmen Rouggeri (actress), Chef Vassilis Kallidis, Chef Iakovos Apergis, Chef Eleni Psychouli, Mrs. Angela Sestrini (educator), Mrs. Maria Schick (attorney at law) and Mrs. Katerina Vagger (educator). Our special thanks go to His Excellency Msgr. Theodoros Kontidis, Archbishop of Athens, who recognized the importance of Cupid's Spoon project for the lives of disabled persons and wholeheartedly supported the project, our beautiful host, Fr. George Dagas and His Excellency Ambassador of Croatia, Mr. Aleksandar Sunko with members of the Embassy.We would like to end our "report" from Athens with something chef Vasilis Kallidis told us after the competition: "I expected another boring Saturday. Thank you Vedran and Silvija, I was delighted to participate in Cupid's Spoon and thank you for giving me the opportunity to be a part of this beautiful story."
Our next stop is Bulgaria.


PLEASE SUPPORT CUPID'S SPOON PROJECT




Please support Cupid's Spoon by personal donation on GoGetFunding platform, corporate sponsorship (please contact us at unuo.cupids.spoon@gmail.com) or by sharing our posts through your social media channels. Help us promote society of equality.


Follow us on our social media channels and please share our posts, so more people would get the information about this initiative and more persons with disabilities would be given a chance to participate in Cupid's Spoon Europe 2023.
https://www.facebook.com/CupidsSpoon https://www.facebook.com/centarunuo https://www.instagram.com/cupids_spoon_europe https://www.youtube.com/@cupidsspoon-europe https://www.youtube.com/@udrugaunuo2677